In a prior post, we introduced the benefits of Nyalic and explained the process. Here, we'll share a couple striking 'before & after' examples.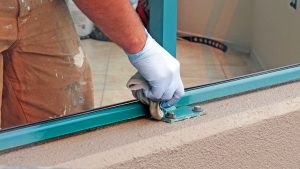 Quick Recap: What is Nyalic?
Nyalic is a clear coat, finishing product that when used on faded, oxidized pre-finished surfaces, rejuvenates and restores the surface to a like-new appearance, blocking UV rays and limiting chalking or discoloration. In our experience, we most commonly use it on metal window frames, flashings, and railings.
Current Project in False Creek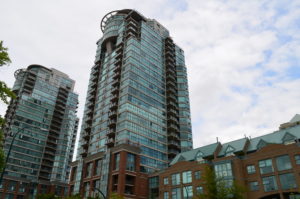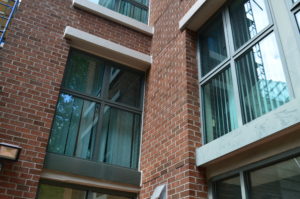 Remdal is working hard on a concrete restoration and high-rise painting project in False Creek that includes Nyalic application to the window frames, flashings, and railing. The window frame on the left has been cleaned and coated whereas the one on the right shows the faded, weathered condition many of these frames progress to over time.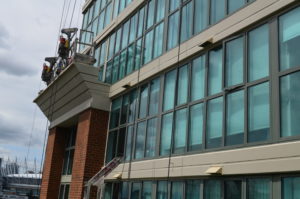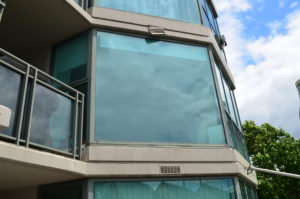 This tower project also includes vent replacement. You can see the old vents we are removing (some falling off the building in the picture on the right) and the new, improved ones we already installed (on the left). The difference is significant.
Did They Install New Windows This Summer?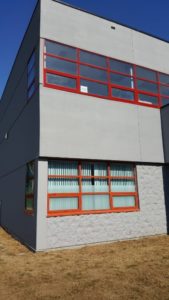 In 2018, we painted an Abbotsford school and this project included applying Nyalic to the window frames. When the teaching staff saw how great the windows looked, one even asked if the windows were brand new. The photo shows the top floor completed and the lower floor has only been cleaned. It's a great example of how Nyalic can rejuvenate these surfaces to their original beauty.
Can You Just Paint The Frames?
Of course, painting is an option and some buildings choose to do so. That said, once you paint the metal frames, they become an ongoing maintenance item prone to peeling, chipping, and fading. When access is challenging this can be a costly item to re-do every few years. Also, Nyalic refreshes the original finish so beautifully, it truly seems the best choice when it's an option.
Key Takeaway:
Nyalic allows for a simple renewal of the clear finish. This is often more cost-effective than painting the relevant surfaces, without the risk of peeling or future repainting maintenance costs. Check our step by step guide about the application of Nyalic Clear Finish Metal Protectant.
Contact us at 604.882.5155 or [email protected] for more information to see if this can be the solution you need.